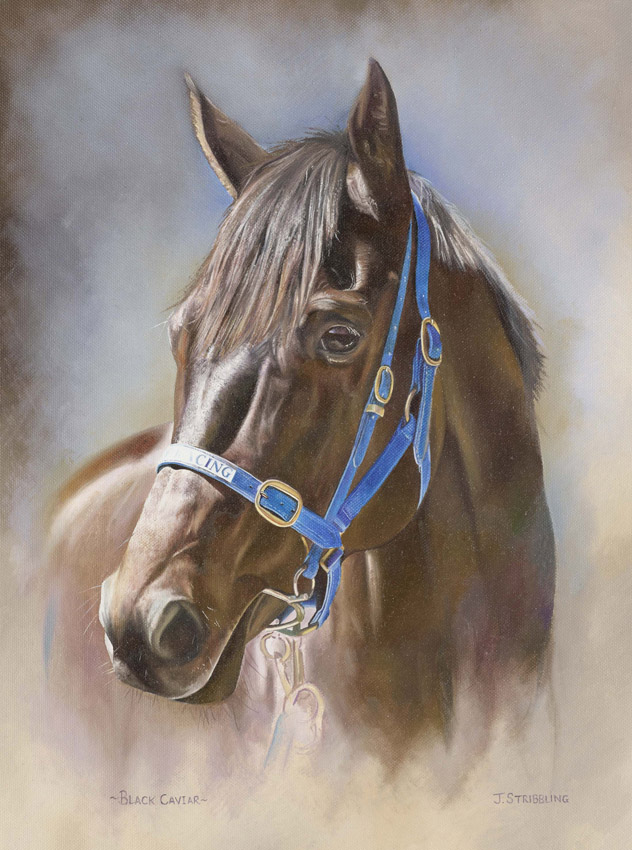 Black Caviar
by Joanna Stribbling
Image size: 18" x 14"
Limited Edition of only 500 prints worldwide
Each print is individually checked, numbered and signed by the artist.
This Limited Edition Print has been printed with lightfast inks on acid-free, high grade board from environmentally conscious paper suppliers.
Print only price: £75.00
Framed price: £125.00
Unfortunately we cannot ship FRAMED items overseas
Black Caviar (foaled 18 August 2006) is an Australian Thoroughbred racehorse undefeated in 22 races, a success record not equaled for over 150 years. She is considered to be the best sprinter in the world, having been named WTRR World Champion Sprinter in 2010. On 31 March 2011 Black Caviar was rated one of the top Thoroughbred racehorses in the world (with a 136 rating) for the first quarter of 2011 by Timeform. She is trained by leading Melbourne-based trainer Peter Moody, and has been ridden by Luke Nolen in all her starts apart from her first two runs where Jarrad Noske rode her and in the Patinack Farm Classic, where Ben Melham rode her while Nolen was suspended.
Black Caviar is a dark brown mare foaled in Australia at Swettenham Stud. She is owned by G.J. Wilkie, K.J. Wilkie, Werrett Bloodstock Pty Ltd, C.H. Madden, J. Madden, P.A. Hawkes, D.M. Taylor and J Taylor. She was sired by Bel Esprit, winner of the Doomben 10,000. Apart from Black Caviar, Bel Esprit sired Bel Mer, a mare who won the Robert Sangster Stakes in 2009. Black Caviar was the first foal of her unraced dam Helsinge, a daughter of the British racehorse Desert Sun, who never won a major race but was placed in the Craven Stakes and the Sandown Mile. Desert Sun also sired the outstanding racemare Sunline. As a descendant of the British broodmare Pinprick, Black Caviar is a product of the same branch of Thoroughbred family 1-p which also produced the Classic winners Ambiguity and Sodium. Black Caviar was one of the yearlings consigned by Swettenham Stud to the Inglis Melbourne Premier yearling sales where she was auctioned for A$210,000.
Black Caviar is an unusually large racehorse, weighing approximately 570 kilograms and standing 16.2 hands high. Horses foaled in Australia have their official "birthdays" on 1 August, whereas in the Northern Hemisphere horses have their ages advanced by one year on 1 January. This anomaly led to Black Caviar being officially described as a six-year-old when she ran in England in June 2012, although she was still a five-year-old by Southern Hemisphere reckoning.
2008–2009: two-year-old season:
Black Caviar started twice as a two year old, winning her debut by five lengths before claiming the listed Blue Sapphire Stakes by six lengths.
2009–2010: three-year-old season
Returning as a three year old, she won first-up in a listed race by four lengths. Stepping up to Group 2 level in the Danehill Stakes at Flemington, she caused concern when she stumbled at the start; however, she recovered to keep her winning run going, beating the colt Wanted, by three quarters of a length. Moody, commenting on the mishap in the early stages said "I certainly had my heart in my mouth". A chest muscle injury sustained in the start kept her out of racing until the following January. That resuming run saw her take on the older horses in the Group 2 Australia Stakes at Moonee Valley, where she won by two and a half lengths. Shortly after the race, the filly sustained an injury to a suspensory ligament in the her right foreleg which kept her out for the rest of the season.

2010–2011: four-year-old season
Returning as a four year old in October 2010, Black Caviar won two more Group 2 races; the Schillaci Stakes at Caulfield and the Moir Stakes at Moonee Valley by 5½ lengths. She then was set for her first Group 1 race in the Patinack Farm Classic at Flemington, where she took on a field that included the highly-rated West Australian sprinter Hay List, along with multiple Group 1 winners Star Witness, Melito and All Silent. Black Caviar produced what was described as "an astonishing demolition job" and won by four lengths. After the race, the veteran trainer Lee Freedman, who had conditioned outstanding sprinters including Miss Andretti described Black Caviar as "the best I have seen".
She resumed in February 2011 in the Lightning Stakes, where she defeated Hay List by three and a half lengths, being eased down well short of the winning post. Her next start saw her carry topweight of 58 kg in the Newmarket Handicap at Flemington. Despite the weight, she again won in similar ease to her previous Group 1 wins and set a race record in the process. This performance earned her a rating of 130 from the IFHA, which made her the number one ranked horse in the world in the period of October 2010 – March 2011. The rating placed her only three pounds behind Dayjur, the highest rated sprinter of the previous thirty years. A fourth successive Group 1 win came in the William Reid Stakes at Moonee Valley before she ventured to Randwick in Sydney for the T.J. Smith Stakes. In this race, which attracted a crowd of 30,000, Hay List established a clear break on the field at the top of the straight and a huge upset briefly appeared possible. Black Caviar, however, accelerated past Hay List in the closing stages and won in very impressive style by three lengths. The Herald Sun described her performance as "brilliant, dominant and unforgettable".
She then travelled to Brisbane for the BTC Cup at Doomben, where she attracted a crowd of over 20,000, for another clash with Hay List. She won by two lengths over Hay List, who once again ran a clear second placing and confirmed his standing as Black Caviar's main rival. Buffering was a further five lengths away in third place. Black Caviar was expected to end her season in the Doomben 10,000; however, her connections instead decided to spell her until the Australian spring.
In the annual Victorian Thoroughbred Racing Awards, members of the racing media voted Black Caviar as Horse of the Year by 150 votes to 134 over So You Think.

2011–2012: five-year-old season
Black Caviar started her five year old season by winning her second Schillaci Stakes by 4 1/4 lengths. With this victory, she equalled Phar Lap's record of 14 straight wins. She won her 15th race in the Moir Stakes by a 6 length margin. She maintained her unbeaten record with win number 16 in the Patinack Farm Classic by 2.8 lengths from Star Witness and Ortensia. In this race she was ridden by Ben Welham, substituting for the suspended Nolen. After the Patinack Farm Classic, Black Caviar was spelled for the remainder of the Spring racing season.
She returned to racing by winning the 1200 metre Group 2 Australia Stakes at Moonee Valley on 27 January 2012 by 4.3 lengths in a time of 1.09.44 to remain undefeated over 17 starts. She then stepped up to 1400 metres for the first time on 11 February in the C.F. Orr Stakes at Caulfield. The distance and wet track conditions led to media specultion that her unbeaten run was under threat,[26] but she again won comfortably by 3.3 lengths in front of a crowd of 20,000.
Black Caviar backed up a week later in the Coolmore Lightning Stakes on 18 February over 1000 metres, where she was once again pitted against Hay List. She was challenged up until the 200m mark, then extended away to win by nearly two lengths. The win put her equal with American horse Peppers Pride with 19 wins from 19 starts, and behind only Kincsem, who won all 54 of her races. She also equalled the long-standing Australasian record of successive wins jointly held by Desert Gold and Gloaming.
On 28 April 2012 she won the Group 1 Robert Sangster Stakes by 4½ lengths at Morphettville and in the process set a new Australasian record of 20 straight wins from 20 starts. the win also took her past the unbeaten run of the American mare Zenyatta. Moody commented on her record-breaking run by saying that "Luke was pretty kind to her, he gave her one little smack on the bum and she did the rest."
In June, Black Caviar was sent overseas for the first time, her target being the Diamond Jubilee Stakes at Royal Ascot. On the 30 hour flight from Australia to England she wore a specially-designed "compression suit" which reportedly helped blood circulation. The race on 23 June attracted a crowd of 80,000 to Ascot and was broadcast live in Australia, where crowds watched the event on a big screen in Melbourne's Federation Square. Racing over a straight six furlongs on rain-softened turf Black Caviar won the Diamond Jubilee Stakes by a head from the French-trained filly Moonlight Cloud, with Restiadargent a neck away in third. Nolen sent the mare past the Frankie Dettori-ridden Soul inside the last quarter mile but after establishing a clear lead he began to ease Black Caviar. Moonlight Cloud moved up on the stands side to draw almost level before Nolen began driving Black Caviar again in the final strides. Nolen admitted that his over-confidence had been a factor in the closeness of the finish saying that "It was an error that every apprentice is taught not to do, and I got away with it today." Moody explained the mare had not coped with the 11,000 mile journey as well as he had hoped or expected. He also described her as appearing "tired and worn out" after the race. Based on Black Caviar's 22 victories, Timeform rated the Diamond Jubilee as her third lowest performance (116). However, an examination by veterinarian Peter Angus and chiropractor Michael Bryant later revealed that Black Caviar sustained a grade-four tear of the quadriceps and a grade-two tear of the sacroiliac during the race. It was announced that Black Caviar would return to Australia to recover and bypass the originally intended second stage of her international challenge in the July Cup. On 26 June, Moody explained that Black Caviar was expected to recover from her injuries and that, after an extended break, she would be prepared for a third Patinack Farm Classic. On July 31 connections decided Black Caviar would not race during the spring carnival.
Joanna Stribbling was born in Kent in 1983. She started painting at a young age but decided to pursue her ambitions to be a scientist. She gained A Levels in chemistry, biology and physics and was accepted by Imperial College to study Equine science.
After a year of study Joanna opted to take a gap year. It was during this time that she took up painting seriously and after immediate acclaim decided to pursue a career as an artist. Joanna is an exciting new talent and her ability to capture detail and light should ensure an illustrious career.